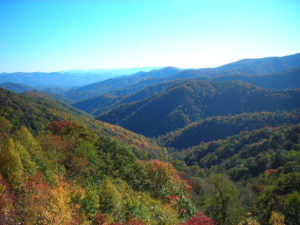 Top 5 Reasons to Move to Appalachia Kentucky
Small towns, friendly neighbors, unique culture, and natural beauty are just a few ways to describe the small towns in Appalachia Kentucky.  As people have changed their work life due to more employers allowing people to work from home or if you are looking to retire to a safer, more inviting area, this region may be just what you are looking for in your next move.  Here are the top 5 reasons you may want to consider moving to Appalachia Kentucky, which are the areas surrounding Paintsville, Prestonsburg, and Pikeville.
Natural Beauty
First on the list would be the natural beauty of the region. Many people actually travel through the mountains just to stop and take in the scenery of the mountains.  During the fall, the colors of the leaves changing is something that is always beautiful even to a long time resident of the area.  The main road that runs north to south through the area is US Highway 23. In the Pikeville region there are several spots you can stop along the road for scenic views of the mountains, which are at their highest elevation in Kentucky in this area.  The highway that runs East to West is the Mountain Parkway where you can find more natural beauty of the area at the Natural Bridge and Red River Gorge.  If you enjoy photography, this region has plenty to keep you occupied.  The wildlife if also something many people may not get to experience depending on what region you are from.  On your drive through the area you may see a range of wildlife such as whitetail deer, wild turkeys, and the states largest herd of Elk, which can be viewed more in the Martin County area around route 3.
Safety and Schools
With recent geopolitical issues that have arisen in the most recent year, safety is a big attraction to many people.  In the Appalachia region, you will find some of the friendliest and inviting people around. It's just a part of the culture.  There are low crime rates throughout the region.  Another reason if you have young children, the academics and sports programs are some of the top in the state in K-12.   Additionally, in higher education, there are several community colleges in Paintsville and Prestonsburg, as well as the nationally recognized University of Pikeville known for their medical program in Pikeville.
Outdoor Recreation
If you are an outdoor enthusiast who enjoys hiking, kayaking, fishing, or trail riding, you have just about anything you could want in the region.  From the campgrounds, to lakes, to bike trails, there is about anything you would want to do.  If you are a RV type camper, like to fish, or just like to be out in nature, there are several lakes that offer many opportunities for you.  Paintsville lake has a very nice campground to take your camper and park for a weekend or a week.  The facilities are very clean, there's a large playground area for the kids, a marina with a restaurant, and of course the lake itself if you want to take a swim or go out on the boat for some fishing.  Another gem at the Paintsville lake located across the spillway is the Mountain Home Place, which is an 1850's working farm that has cabins, a school house, and there are usually some farm animals that you may be able to pet while you're there too.
If you go on down 23 to Floyd county, you'll find Dewey Lake and the Jenny Wiley State Park.  The lake has campgrounds and the fishing for crappie and bass in the spring is superb.  The Jenny Wiley State Park has a lodge with amazing food and they also have the Jenny Wiley Theatre which puts on amazing shows throughout the summertime.  Other lakes in the region are Fishtrap Lake in Pike County, Yatesville Lake in Lawrence County,  and if you head west there is Cave Run lake in Rowan County around the Daniel Boone National Forest.  If you wanted to go on a scenic bike ride, you could hop on the Dawkins line trail around Paintsville for a 17.5 mile bike ride, walk, or jog. Not to mention in Pike County you can visit The Breaks Interstate Park that has biking, kayaking, hiking, and tons of scenery.  Of course heading west on the Mountain Parkway, you will want to stop at the Natural Bridge and Red River Gorge.  Even if you're not moving to the area, you'll want to make several trips to try to see all of these natural beauties of the region.
Culture
Culture is a huge part of our region.  One thing that runs deep in the culture in Appalachia is country music.  The US Highway 23 that runs through most of Appalachia is actually called the Country Music Highway because there are so many country music artists that are from the region.  In Paintsville, right of US Highway 23 is the Country Music Highway Museum you can stop in and visit.  Artists such as Loretta Lynn, Ricky Skaggs, Dwight Yokem, and most recently Chris Stapleton all grew up in this region.  You can also visit Loretta Lynn's home place in Paintsville.  In Floyd county, there is the Mountain Arts Center which regularly has productions and is the home to the Billie Jean Osborne's Kentucky Opry and Kentucky Opry, Jr. The MAC has an abundance of shows they perform throughout the year and is focused on the Appalachian Arts and culture.  If you go down to Pikeville, Kentucky they have the EXPO center which regularly hosts concerts by some of the biggest names in country music, as well.
Peace and Quiet and Wifi
Finally, a few things that make our region practical for you and your family other than what we've already mentioned is that the area offers a more subtle and slower pace than your hustle and bustle around the larger cities.  With many employers allowing you to work remotely now, you don't have to live close to a big city to work in a big city.  From an infrastructure standpoint, believe it or not, but we are a 1 GIG economy in and around Paintsville, KY.  Our local telephone coop provides up to 1 GIG internet speeds, which is something that even the outskirts of the larger cities across the nation do not have access.  If you're a remote worker or need high speed internet to do your job, we've got you covered.  Not to mention, our area is quite conveniently located to many larger cities or other attractions. In two to four hours, you can easily be in Lexington KY, Pigeon Forge TN, or Asheville, NC. If you're thinking about making a major move, and you like the sound of the culture, attractions, and lifestyle just mentioned, Appalachia Kentucky may be where you want to make your next home.